We supply and stock a range of heat powered stove fans. They are designed to circulate the warm air created by a stove. Eco fans do not use any power from a main electrical source, or batteries, they are solely driven by the heat generated from the stove or appliance.
Optimal running temperatures vary from 65c to 190c depending on model.
Ecofans improve air circulation, which results in greater comfort and less fuel consumption of up to 20% approximately.
Eco Smart Fan Mini £89
Eco Smart Fan Large £125.50
The Smart Fan is a self-powered, clean, silent and efficient device that greatly improves heat circulation from your solid fuel stove.
The device is powered by a thermoelectric generation module which uses the hot surface of the stove to generate an electric current to propel two fan blades. Heat, instead of rising immediately to the ceiling, is propelled directly into the living space and provides an increased level of comfort and greater fuel efficiency.
The device works on a simple principle; the hotter the bottom and the colder the top, the more electricity is generated. In order to maximize its output, the unique design incorporates an axial fan on the top section which keeps this part cooler and projects hot air into the living space. By utilizing this fan on the top section and by incorporating an aerodynamically designed front fan blade, the Smart Fan can move air up to a rate of 200 Cubic Feet per minute.
Features:
No external power source required
No running costs
Effectively propels warm air into the living area
Robust and maintenance free
Promotes efficient fuel consumption
Safe and silent
1 year guarantee
2 year extended warranty
Heated currents of air naturally ascend. Due to this, a solid fuel stove generally creates a small envelope of heat in its immediate surrounding area. This effectively means that to heat the living area of a room, it is necessary to use a quantity of solid fuel that is relative to its length, width and height. The Smart Fan effectively provides direction for this heated air and allows for greater fuel economies than a solid fuel stove acting alone. The Smart Fan, when placed on top of a lighted stove or hot plate automatically starts and creates two gentle convection currents within a room. As a direct result, warm air is, without creating a draught, propelled into the living area and the room heats up much more quickly. The greater the heat output of the appliance, the greater the speed of the fan blades and consequently the greater the circulation of warm air. Conversely, as the surface temperature cools down, so too does the speed of the blades and the warm air circulation. Just as it starts automatically, it also stops automatically and in both cases, gradually. The motors themselves are very low torque, which allows the fan blades to be easily stopped and do not present a safety hazard in the home.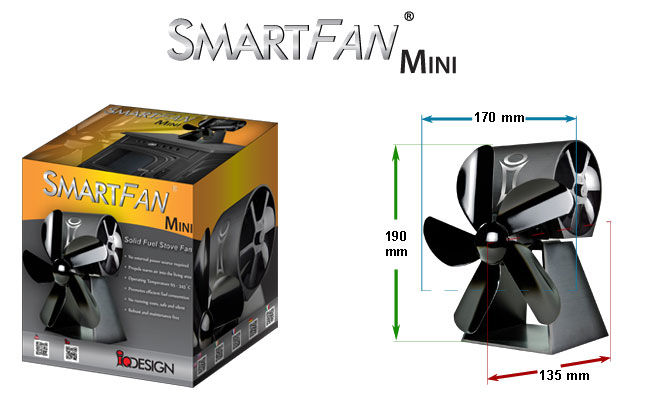 Smart Fan Mini Dimensions
Height
190 mm
Width
170 mm
Depth
135 mm
Weight
800 g
Temperature Range
65°C – 330°C
Blade Dimensions
Front Blade
170 mm
Side Blade
85 mm
Air Velocity 200°C
Front Blade
19.8 KPM
Side Blade
10.7 KPM
Air Velocity 300°C
Front Blade
26.5 KPM
Side Blade
18.4 KPM
RPM 200°C
Front Blade
890 / MIN
Side Blade
1400 / MIN
RPM 300°C
Front Blade
1190 / MIN
Side Blade
2000 / MIN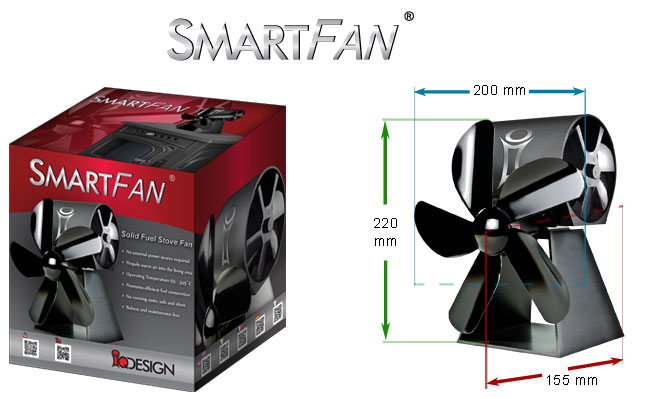 Smart Fan Large Dimensions
Height
220 mm
Width
200 mm
Depth
155 mm
Weight
1000 g
Temperature Range
65°C – 330° C
Blade Dimensions
Front Blade
200 mm
Side Blade
96 mm
Air Velocity 200°C
Front Blade
17.5 KPM
Side Blade
14.8 KPM
Air Velocity 300°C
Front Blade
21.5 KPM
Side Blade
20.3 KPM
RPM 200°C
Front Blade
800 / MIN
Side Blade
1260 / MIN
RPM 300°C
Front Blade
980 / MIN
Side Blade
1680 / MIN
All Products are sold via e-mail only, please feel free to contact us anytime to enquire about any of our products. Shipping fee's vary depending on size and weight of product unless stated otherwise. We will endeavor to get your item to you asap depending on stock & availability. Collection is also available, free local delivery is possible..
Many Thanks Tom!
"After much deliberation and research, we decided on a multifuel stove, but who to fit it?
Tom was a true professional, with advice and a lot of time to make sure we got what we wanted.
Couldn't be more delighted with the result!
Absolutely no hesitation in recommending."
---
Corrine Day
Highly Recommended!
The woodburner is ready for winter, Tom visited and ensured its been burning clean ( as it should) swept the chimney and cleaned up. Excellent service, highly recommended"
---
Steven
Transformed our living space
"Tom has recently finished our fireplace and fitted a new fire, it has completely transformed our living space .He is a friendly down to earth black country lad who gets on with the job ,he is punctual and always works to a high standard and cleans up too
prices are reasonable and if stuck for ideas Tom is more than happy to help you find something to suit your budget. Thanks Tom ,a great job, 5 Star rating from us. Highly recommended
"
---
Hazel & Stu